08apr9:00 am1:00 pmThe Clean Fight Solution: Buildings Edition
Event Details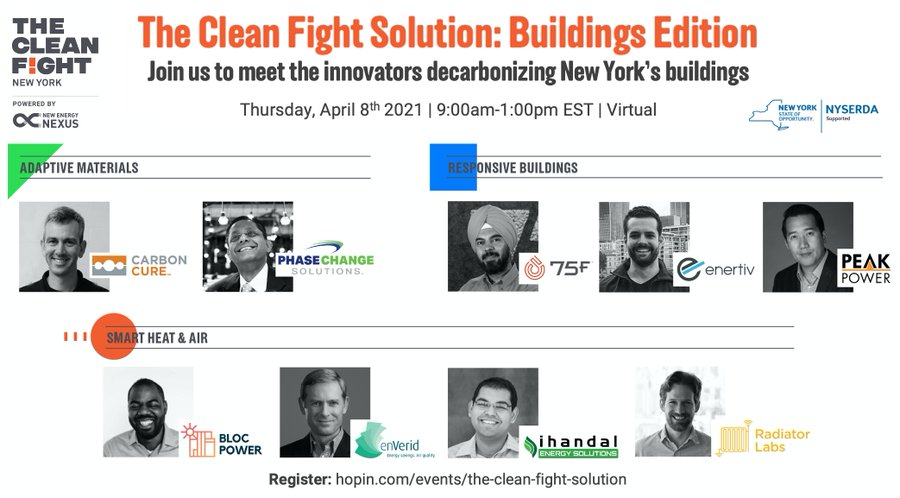 Join the nine companies that make up The Clean Fight Solution.
The Clean Fight is a not-for-profit organization supported by NYSERDA, helping to identify the best clean energy and energy efficiency solutions that can help decarbonize New York's unique building stock.
After vetting over 150 companies, these innovators were selected for their ability to make buildings cleaner with ready-to-install, breakthrough solutions that reduce energy usage and emissions, while making life safer, healthier and more comfortable for tenants.
Who would benefit from this event? Real estate owners, operators, and developers; building managers; AEC professionals; contractors; consultants; investors, and anyone interested in buildings and clean energy solutions.
Agenda
9.00am:Introducing The Clean Fight Solution, industry leading fixes for Heating & Cooling, Smart Buildings, and Intelligent Materials
9.30am: IAQ and Energy Efficiency: In COVID and Beyond, with Deepinder Singh of 75F, Christian Weeks of enVerid, Derek Lim Soo of Peak Power, and Anthony Montalto of JB&B; moderated by Ben Myers of Boston Properties
10.15am: The Many Roads to Building Electrification, with Aaron Patel of iHandal Energy Solutions, Keith Kinch of BlocPower, and Marshall Cox of Radiator Labs; moderated by Michael Izzo of Hines
11.00am: Constructing and Maintaining a Sustainable Future for NY's Buildings, with Govi Rao or Phase Change Solutions, Eric Dunford of CarbonCure, and Comly Wilson of Enertiv; moderated by Julia Gisewite of Turner Construction
11.45am: One-on-one meetings and expo booths with our cohort companies
Thank you to our Corporate Partners, including Baltimore Aircoil Company, Boston Properties, CodeGreen Solutions, Con Edison, Cosentini Associates, Gensler, Hines, HXE Partners, Rudin Management, Schneider Electric, Tishman Speyer, and Turner Construction; our Investor Partners, including Breakthrough Energy Ventures, Camber Creek, Energy Impact Partners, Generate Capital, MetaProp, National Grid Partners, and Obvious Ventures; and our Strategic Partner, Sidewalk Infrastructure Partners.
Proudly Supported By
Time

(Thursday) 9:00 am - 1:00 pm
Location

Online

Online presentation
Organizer